Job 1:4-5 His sons used to take turns holding feasts in their homes, and they would invite their three sisters to eat and drink with them. When a period of feasting had run its course, Job would send and have them purified. Early in the morning he would sacrifice a burnt offering for each of them, thinking, "Perhaps my children have sinned and cursed God in their hearts." This was Job's regular custom.
There are 13.6 million single parents in the United States today. With 84% of those parents being the mother. It is not far-fetched to assume the child will take on the mannerisms and morals of the parent they are with the most.
In the time of Job, the role of the woman was to raise the children. The majority of the time, I bet Job's kids were at home with mom. We see the effects of children who have grown up in Hollywood getting everything they want and living the rich lifestyle - it seems like that lifestyle also affected Job's children.
As parents, we will go to extremes for our children - it was no different for Job. He would offer a sacrifice for each child after their partying to cover any sins they may have committed. Are we guilty of that? Are we teaching our children that our relationship with God is enough fo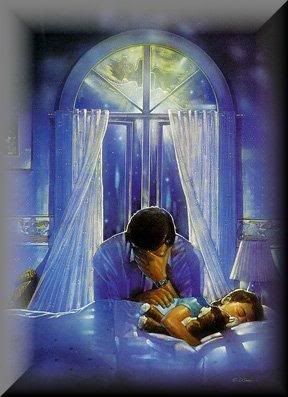 r them as well? Or do we show them the wonderful love that God has for them and how much they will benefit from having their own relationship with Him.
It is important for us to show an example to our children by living a life as Christ-like as possible, but we must also teach them how to have a strong relationship with Christ. Like any relationship - it takes work. It takes effort on our part to make the time to study His word and spend time talking to Him and praising Him and being kind to others for Him. Our kids need to hear this from us - it is not the responsibility of the preacher, the Sunday School teacher, the Youth Minister or even grandma. It's time for us, as parents, to start parenting. Children are a gift from God - I want to make sure I let Him know how much I appreciate that gift.